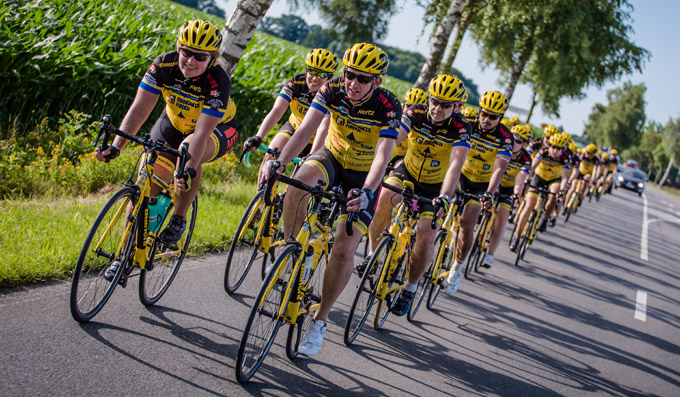 CYCLING TO PARIS FOR CHILDREN WITH CANCER
-

PROUD SPONSOR OF TEAM RYNKEBY - A CHILDHOOD CANCER & CHILD BRAIN FOUNDATION PROJECT
Team Rynkeby is a North European charity cycling team, who cycles to Paris to raise money for seriously ill children. In 2020, the team donated in total €8.799 million to this cause. In Sweden, the entire donation goes to the Childhood Cancer Foundation and the Child Brain Foundation. Orwak started out as a sponsor of Team Rynkeby 2019, when a member of our team, Anders Lorentzson, was one of the devoted cyclists, and we are still a proud sponsor of Team Rynkeby this year!
TEAM RYNKEBY 2021: FROM "TOUR DE PARIS" TO "TOUR DE NORD"
Due to the persistent pandemic, Team Rynkeby had to make the decision to cancel the planned tour to Paris in July, but the valuable collection of money and donation to seriously ill children continues and the dedicated cyclists in our local Team Rynkeby Jönköping will replace "Tour de Paris" by "Tour the Nord" and cycle all the way to Sollefteå in northern Sweden (a distance of 1100 km) in summer. It is a great ambition and Orwak is a truly proud sponsor of Team Rynkeby 2021!
HOW IT ALL BEGAN: BY BIKE TO PARIS TO SEE TOUR THE  FRANCE
Team Rynkeby was founded in 2002, when 11 enthusiastic amateur cyclists decided to ride to Paris to see the final stage of Tour de France. The juice producer Rynkeby Foods was the main sponsor of their trip, but the cyclists were so accomplished at finding sponsors that, when the team returned to Denmark, they had made €5100 profit, which they donated to the children's cancer unit at Odense University Hospital. A new tradition was born!
2400 CYCLISTS FROM EIGHT COUNTRIES
Today's Team Rynkeby involves 2400 cyclists divided into 59 local teams in the Nordic countries, Germany and Switzerland. The team members are selected from thousands of applicants and for almost a full year the energetic participants must not only prepare themselves for the 1400 km trip to Paris, but they are also obliged to do what they can to raise money for children with critical illnesses.
ORWAK – A PROUD SPONSOR SINCE 2019
"To help children with cancer and other serious illnesses is definitely a worthy cause that warms our hearts and creates engagement. At Orwak we are happy to be one of the sponsors of Team Rynkeby and we are particularly proud of our team member Anders, who is committed to this project and was one of the enthusiastic participants, who cycled to Paris in the summer 2019!"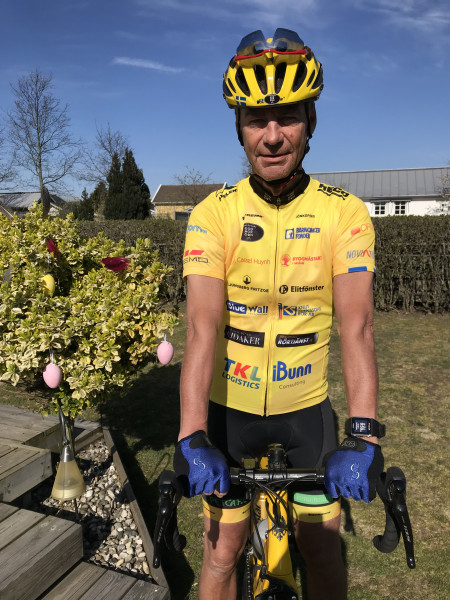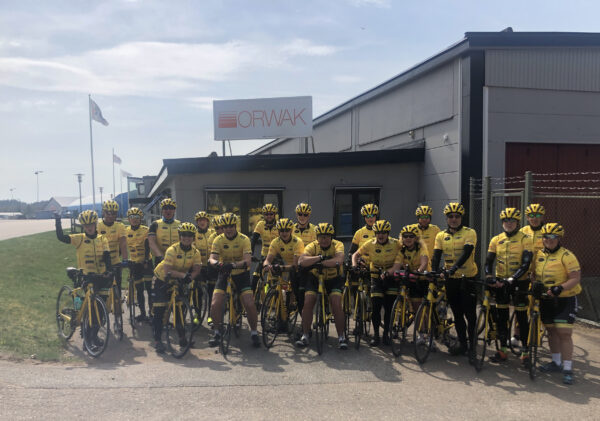 Anders Lorentzson, Orwak,                        The local "Team Rynkeby Jönköping" in training for the tour,
a seasoned cyclist and a member           visited Orwak
of Team Rynkeby 2019

About The Swedish Childhood Cancer Foundation
The Swedish Childhood Cancer Foundation works to fight childhood cancer and ensures that affected children, teens and their families receive the care and the support they need.
It operates exclusively on the basis of donations from individuals and the private sector, and receives no grants from the national government, the municipalities or the county councils.
The Swedish Childhood Cancer Foundation is the single largest financier of childhood cancer research in Sweden, and also provides financial support to the development of new treatment methods and continuing education in the field of childhood cancer. Read more about the foundation