TOM HELPS MCDONALD'S CHILE CUT THE DAILY WASTE VOLUME BY 80 %
-

News room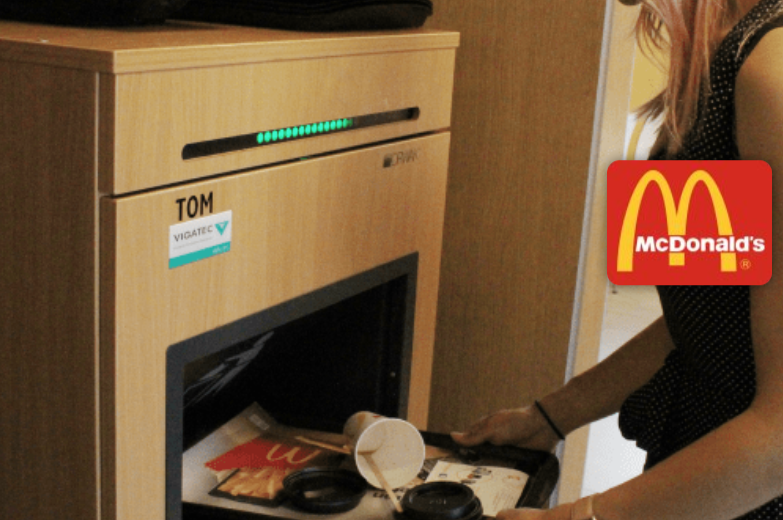 2020-11-03
McDonald's is committed to improve its waste management, so it installed smart automatic waste bins, achieving a significant reduction in waste collection and in several of its locations. With TOM installed, bag switches occur only 3 times a day vs 3 times per hour before during rush hours.
This solution provided by Vigatec, Orwak's distributor in Chile, enabled them to replace conventional waste receptacles with smart automatic bins. TOM is ideal for public spaces, as it is the same size as a conventional bin but comes with an automatic shutter and overflow protection and compacts the waste, which reduces the number of bags.
Installations at 8 McDonalds locations in Santiago de Chile:
23 TOM Jr
smart bins
Soon 19 TOM
at 7 other locations
What advantages has McDonald's Chile noticed with TOM?
The user experience
Perception of the client as a technological brand committed to the Circular Economy
More time for the staff to spend on the core business
Cleaner premises
Better service overall
Reduced number of waste collections conducted by an external company
Each location with TOM on site saves approximately:
76 Hours Monthly – time for other tasks
810 Fewer Plastic Bags per month for the environment
81 % Reduction of the carbon footprint


Elías Zavala, Operations Manager at McDonald's Chile:
"The implementation of smart bins in our restaurants has allowed us, in addition to make the waste management more efficient and reducing our carbon footprint by 81 %, to offer our customers a better service experience, with cutting-edge technology on site that goes from taking the order to the disposal of their waste ".


Carmen Pirela, Customer at McDonald's Rotonda Atenas:
"I really like this type of automatic waste bins because I remember that previously there were always overflowing garbage bins. With this compactor, the space looks clean and well organized."


Watch TOM Junior at McDonald's Chile in action on YouTube: