San Sac Group grows substantially and strengthens its market position and offering within compaction machines further by the acquisition of Orca Group in France. Orca Group is the French market leading manufacturer and distributor of high quality horizontal balers, vertical balers and compactors under the brands Sacria, Galicier and Pressor.
The group has more than 175 employees, including a global salesforce of 15 people, and it operates an efficient after-sales and service network with more than 70 technicians. Sacria, the first Orca Group company, was founded in 1964.
"Strategically, this is an important acquisition for us both, because we add new production capabilities through Orca Group's two manufacturing facilities and because of Orca Group's leading position on the large French market. It also opens interesting opportunities worldwide, when we can combine San Sac Group's international reach with Orca Group's product portfolio", states Fredrik Jaginder, CEO of San Sac Group.
"The product range from Orca Group and the vertical balers from Orwak are a strong combination and we can now offer the market a complete product range of internally produced waste compaction equipment. We are looking forward to develop the business together with Mr Bedos and his team", says Tomas Johansson, Sales & Marketing Director at Orwak.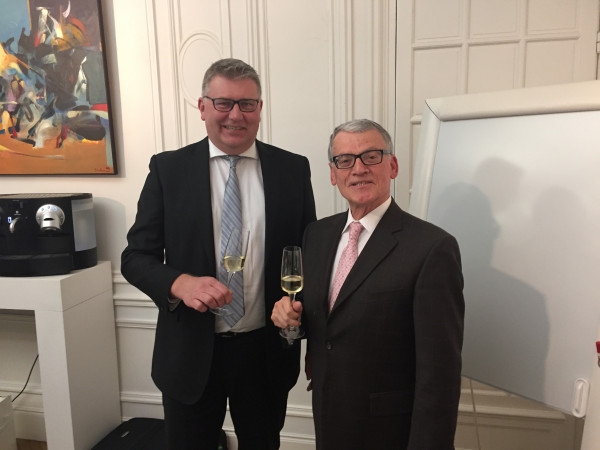 Tomas Johansson, Orwak, and Jean-François Bedos, Orca Group
The founder and former majority owner of Orca Group, Jean-François Bedos, will continue as Managing Director. Mr Bedos comments:
"I am proud and very happy for Orca Group, a business that I have built up over more than 50 years, to become part of San Sac Group. I am inspired to work with them to explore new opportunities and expand the business internationally further."