John George is a family run business based in Reading in the UK. They are a supplier dealing almost exclusively with independent merchants in the building, roofing, fencing and agricultural trades. They aim to provide over 99 % stock availability and next-day delivery where possible, holding six months of stock for reliable service provision to their customers.
Together with their sister company, Henry Shaw, they provide fast nationwide service delivered from their own depots, on their own vehicles. That gives John George the flexibility to meet the requirements of their customers, large and small, and they are now delivering a range of over 7,500 products to over 1,000 customers in the UK.
"Delivering performance since 1725" is their motto and they now also have a well-performing waste management solution on site. The business obviously generates a lot of empty packaging and before John George used a large skip, a costly solution, and they started to look at alternative methods of disposal.
Orwak Easi UK provided them with a sustainable, space and cost saving waste compaction solution. Having a relatively equal amount of cardboard and polythene, John George looked for a baling solution to cover them both and the Orwak multi-chamber baler 9020s was a perfect match.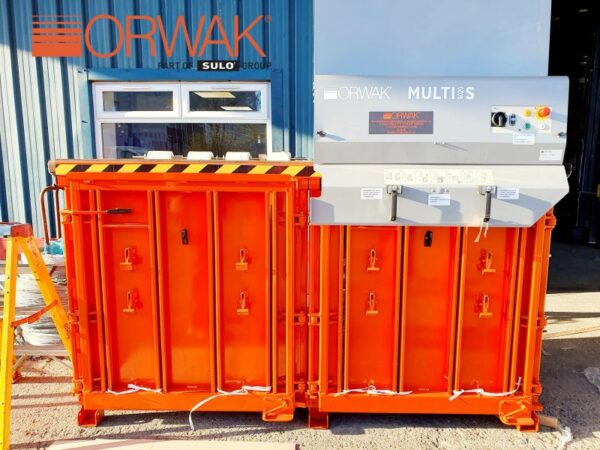 The one machine rental enabled them to segregate waste at source, bale both materials simultaneously, regain space in the yard from the skip they no longer need, and to top it all off, it saved them about £5000 per year.
Read more about the Orwak Multi-Chamber balers and what they can do for you!